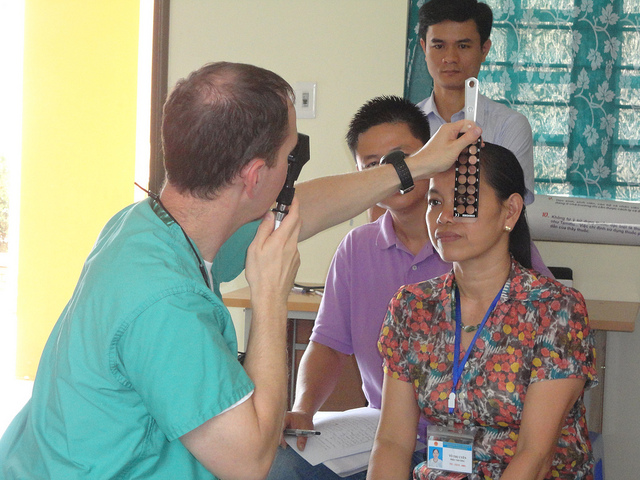 Medical
While Vietnam has made great strides in healthcare education, training, and facility improvement, there are opportunities for improvement in all of these areas. GVI volunteers with specialized skills in ophthalmology, nursing, dentistry, emergency response, and family medicine support projects in northern Vietnam to improve the overall quality of healthcare in this region.
Health and Hygiene – GVI volunteers partner with schools, hospitals, orphanages and other community outlets to teach children the importance of hygiene to prevent illness and disease. Children learn the importance of brushing their teeth and washing their hair, feet and hands.
Nutrition – Basic nutrition is a critical component to the development and well being of a child. GVI provides meals to public school children in some of the more rural areas, so that children receive the much needed nutrition necessary to learn and grow. In addition, with assistance from donors, we support the nutritional needs of the youngest resident children at local orphanages. GVI continually looks for sponsors to partner with to provide ongoing nutritional programs that allow children the basic nutrition to learn and grow.
Medical Projects and Collaborations - GVI partners with local universities and clinics in northern Vietnam to improve the quality of care and access to quality healthcare to communities throughout the region. Examples of such projects and collaborations include:
Multidisciplinary hospital/clinic in Hanoi, Vietnam
GVI has established a good working relationship with a multidisciplinary hospital/clinic in Hanoi and uses experienced medical volunteers to work alongside their medical care providers to provide training and a variety of services including: inpatient/outpatient care, health and hygiene clinics, emergency care and surgery, obstetrics, and dentistry.
Vietnam National Institute of Ophthalmology (VNIO)
Pediatric eye doctors at the VNIO are eager to learn new methodology related to eye diseases, medication, equipment, and surgery techniques. Eye doctors from the US have worked with this hospital to train doctors on various surgery techniques as well as introducing new medication and methods to effectively treat eye disease. In recent years, conferences have allowed doctors at the VNIO, as well as those at provincial hospital levels, to join in and learn from such discussions. These conferences and training opportunities provide doctors at the VNIO the knowledge needed to better care for their patients and help children with eye diseases have a brighter future.
Chuong My Hospital
Chuong My Hospital is located in the Chuong My district of Ha Noi where the infrastructure, equipment, and hygiene is very poor. Since 2010, volunteer doctors and nurses have visited Chuong My Hospital to serve and train doctors and nurses on Obstetrics surgery and Aspiratory care. This training has allowed the doctors and nurses to provide a higher standard of care for their patients.
The National Pediatric Hospital (NHP)
The National Pediatric Hospital in Hanoi is the largest and most advanced pediatric hospital in Vietnam. While it is equipped with qualified doctors and nurses, the standard of service does not meet the needs of patients and clients. Since 2008, GVI has sent experienced medical volunteers such as doctors, nurses and hospital administrators to providerecommendations for process improvements that have helped the hospital improve its quality of service and care.
Nam Dinh Nursing University
Since 2010, Baylor Nursing faculty have partnered with GVI to visit the Nam Dinh Nursing University to share their knowledge and expertise around medical practices and techniques. Recent activities involved methods around simulation lab training, community health, research, and leadership.