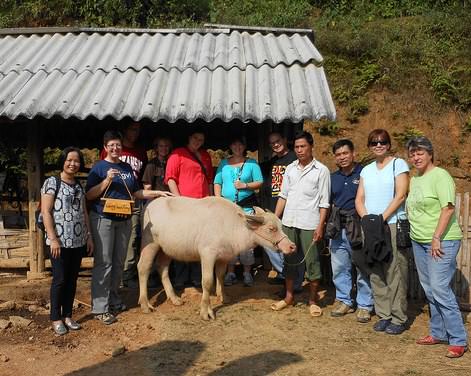 Agriculture & Water
Farming Projects – GVI has been very active with the farmers throughout the villages in northern Vietnam. In recent years, working closely with the Bac Ha Farmer's Association, GVI has begun to educate families on farming mushrooms. This is a new product for farmers in the villages in which the waste from their rice and cornfields is used as compost for the mushroom plantings and allows for multiple harvests each year. The mushroom farms are progressing well and families are generating much needed income while sharing their knowledge with other families in the village interested in starting their own mushroom farm.
Water Buffalo Donations – GVI donations provide water buffalos to rural families helping them increase productivity and harvest in their rice paddies and cornfields. A donation of $600 pays for most of the cost of a water buffalo. The families then contribute the remaining funds based on the size and age of the water buffalo purchased. A single water buffalo can double the income of a family in just one year and change their lives forever.
Water Buffalo Coral Construction - The winters in Vietnam are very cold, especially in the high mountainous areas of the far northern provinces. GVI volunteers help farmers build corrals for their water buffalo to provide warmth and to ensure survival during the cold winters.
Water Filtration – Much of the water used in the north comes down from the mountains and is often contaminated by pesticides and animals. GVI provides water filters to schools and community centers to ensure that families in northern Vietnam are drinking clean water. For just $75 per filter, GVI can install a unit that will last indefinitely and remove harmful bacteria and contaminants from the water.